MekaVerse Ethereum NFT Rollout Dogged by Fraud Allegations
[ad_1]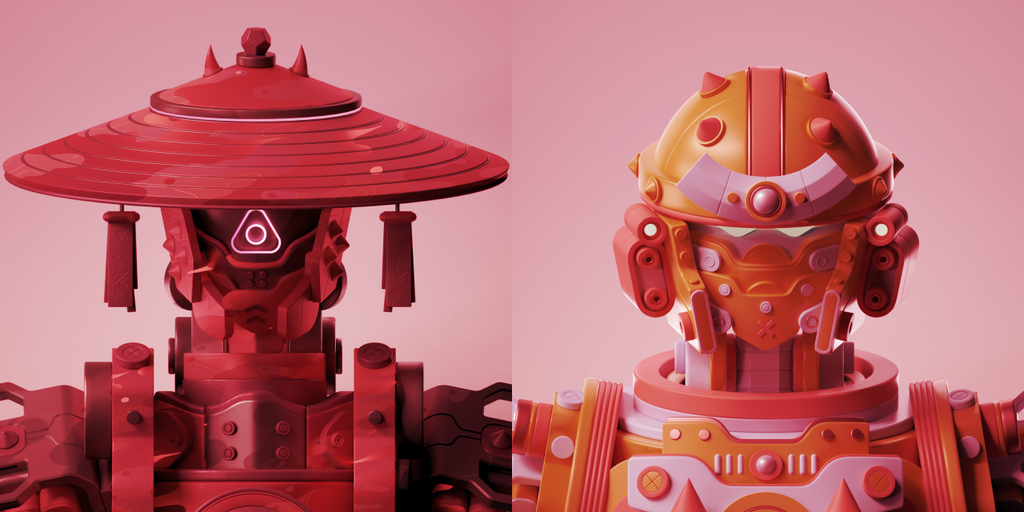 In brief
MekaVerse, a popular new Ethereum NFT collection, has been surrounded by controversy since the launch.
Twitter users have alleged that leaked or private data was used to take advantage of the market before the final NFT images were revealed.
MekaVerse is one of the most successful NFT collectibles launches in recent memory, generating more than $60 million worth of sales within a 24-hour span last week. But the initial rollout was dogged by controversy, and even more allegations of potential fraud have surfaced since then.
When MekaVerse—an Ethereum-based collection of 8,888 randomly-generated profile pictures—held its minting process on October 7, the new NFT owners didn't immediately know which image they had bought. It was like an IOU: holders saw a placeholder image ahead of a planned collection-wide reveal days later. Even secondary market buyers didn't know what they were getting.
Every image on OpenSea looked the same in the meantime, and secondary prices soared as users took a trading card pack-like gamble on possibly pulling a rare, especially valuable image. Ahead of the launch, unrevealed MekaVerse NFTs had an average sale price above 7.1 ETH, or about $25,000 at the time.
Rather, buyers shouldn't have known what they were buying. However, since the launch, a number of allegations have surfaced on social media suggesting that some buyers may have had early access to the metadata, or the information that describes which attributes each NFT image contains. That data could have been used to purchase rare NFTs, sight unseen.
In a viral tweet thread, Twitter user MOLOTOV accused the MekaVerse launch of being "rigged." They highlighted public data from OpenSea and other resources that suggest one of the developers on the project, Wyb0 from Miinded Studio, managed to purchase one of the rarest NFTs around the average going price before the reveal.
MOLOTOV's tweets suggest that the developer traded on inside information—and it's not the only tweeted accusation around the project. In another thread, Twitter user Otto Suwen makes the case that a single wallet holder scored multiple rare MekaVerse NFTs from unrevealed purchases, potentially via leaked metadata info. He added, "There were so many suspicious buys after mint. Now we know why."
In other words, the gap between the minting process and the image reveal a few days later could have created a window in time in which leaked metadata could be used to purchase certain MekaVerse NFTs—ones that could become much more valuable after the reveal.
The team's response
Decrypt reached out to the MekaVerse team on Thursday, including directly to co-creators Matt Braccini and Mattey, but did not hear back from any of them.
On Thursday, the creators addressed the allegations in an announcement post via its public Discord server. According to the team, the reveal process included a custom Python script to aid with randomization, along with a seed system for regenerating the order if needed. It also used a private server, not on a blockchain, to complete the randomizing process.
"It allows us to safely randomize everything on our side, which was done solely to avoid any security issues and to have something clear and controlled," the team wrote.
"To avoid any risk of leakage or cheating, our team kept the secret until the very last moment of the reveal date," it continued. "We performed the final randomization just before the reveal to ensure that nothing leaked and that everything was distributed clearly, fairly, and randomly."
In the same announcement post, the MekaVerse creators revealed plans to launch additional free NFTs to airdrop to holders, including a "Meka-Sword" that can be used in a proposed fighting game, as well as a "Meka-Bot" robot companion. It's similar in approach to the popular Bored Ape Yacht Club, which has given holders additional NFTs in recent months.
Meanwhile, Wyb0—the aforementioned Miinded Studios developer accused of using inside information to buy a rare MekaVerse NFT—tweeted about his purchase, saying that it happened before the MekaVerse creators "​​sent the metadata and final images" to Miinded. In any case, apparently due to the controversy, the NFT in question will be auctioned off for charity.
Amidst these allegations, the floor price—or cheapest available NFT—for MekaVerse has fallen precipitously in recent days. As mentioned, the NFTs were trading above 7 ETH apiece before the reveal, while the most affordable MekaVerse NFTs on OpenSea as of this writing are below 2 ETH (about $7,700). Even so, the collection has generated more than $130 million worth of secondary trading volume to date, per data from CryptoSlam.
In addition to fraud accusations and other complaints around the launch window, some buyers have criticized the visual randomness of MekaVerse mechs, which are inspired by Japanese anime classics like "Mobile Suit Gundam." In some cases, the differences between the Ethereum-based NFT images come down to slight color swaps on small details, as seen above.


[ad_2]

Source link