'Final Fantasy' Creator Square Enix Is Getting Serious About NFTs, Crypto Games
[ad_1]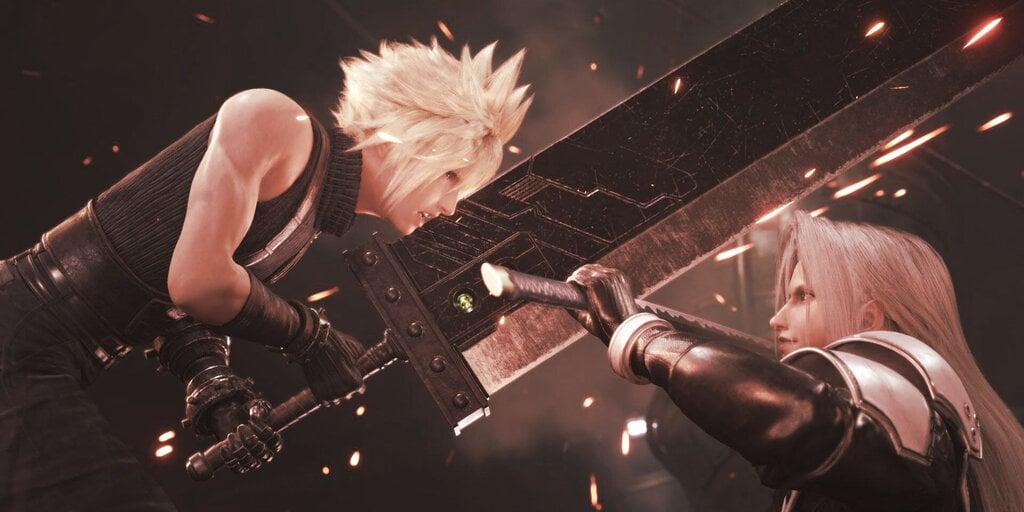 In brief
Video game publisher Square Enix plans to release more NFT-driven projects, including crypto video games.
It recently released a series of Ethereum-based NFT trading cards in Japan, which sold out.
Traditional video game publishers are starting to embrace NFTs and crypto gaming, with third-party giants like Electronic Arts and Ubisoft expressing interest or declaring their intentions in recent days. Now Japanese publisher Square Enix of "Final Fantasy" fame has joined the pack.
Today, during a financial briefing covering the six-month period ending on September 30, Square Enix—which also publishes "Tomb Raider" and "Dragon Quest"—described plans to further explore the NFT space by offering collectibles and blockchain-driven video games.
The storied gaming publisher recently dipped its toe into the NFT market with a trial run, in partnership with developer Double Jump.Tokyo/MCH+. Square Enix released NFT digital trading cards in Japan based on the video game and anime franchise Shi-San-Sei Million Arthur, which were minted on Immutable X, a layer-2 scaling solution atop Ethereum.
According to Square Enix's report, the NFT cards were released on October 14 and sold out. The publisher plans to add secondary market trading support via LVC, a marketplace created by Yahoo Japan and a subsidiary of popular messaging app Line, and then explore other initiatives around NFTs.
"[We] have recognized that NFTs have high affinity with our assets," the report states. "[The] proof of concept phase is over. Will transition to full commercialization phase."
An NFT acts like a deed of ownership to a rare digital item, whether it's a trading card, illustration, video file, or functional video game item. The market blew up near the start of the year and has only accelerated of late, with $10.67 billion of trading volume in Q3 alone, per data from DappRadar.
Square Enix writes that it is now "contemplating robust entry into blockchain games," citing a "changing environment" for digital entertainment, including "increasingly diverse profile of/incentives for people involved in gaming."
"Games are further expanding from centralized into decentralized formats," the report reads. "In addition to the sort of content creation we have traditionally engaged in, we will focus on blockchain games premised on token economies as a form of decentralized content."
Following the summer explosion of Ethereum-based game Axie Infinity, which has generated more than $2.8 billion worth of transaction volume to date, traditional game publishers have used their latest financial reports to indicate interest in or plans for the crypto space.
Ubisoft, which has already dabbled in the NFT space and supported crypto developers, recently said that it would make its own NFT-based games following an investment in Animoca Brands. On Wednesday, Electronic Arts CEO Andrew Wilson said during the publisher's latest earnings call that he sees NFTs and crypto as "an important part of the future of our industry," although he cautioned that it was "still early."
The crypto gaming industry has also seen a number of significant funding announcements of late, including Mythical Games raising $150 million this week from investors such as Andreessen Horowitz, the NFL's 32 Equities fund, and retired NBA star Michael Jordan.
Animoca's The Sandbox metaverse game raised $93 million earlier this week, plus crypto exchange FTX, Solana Ventures, and Lightspeed Venture Partners announced a $100 million co-investment fund for Solana-based games.
[ad_2]

Source link