Crypto Advocates Protest 'Gatekeeper' Valve's NFT Game Ban on Steam
[ad_1]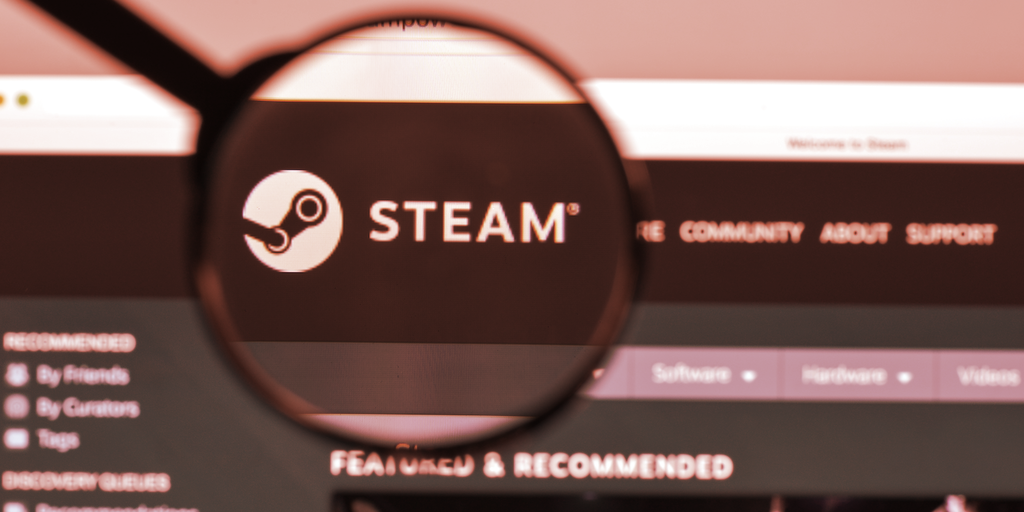 In brief
Valve recently banned blockchain-based games with crypto and/or NFT elements from the Steam marketplace.
Fight for the Future and game developers have posted an open letter to Valve and are pushing for the ban to be reversed.
Steam is the largest digital marketplace for PC games, but it won't be where you find blockchain-based games with NFT assets or cryptocurrency integration right now. Recently, the marketplace banned any games with NFT or crypto elements—but a number of crypto game developers and Web3 advocates are now pushing back against the decision.
Today, digital rights group Fight for the Future posted an open letter to Valve, imploring the Steam creator and game developer to not ban crypto-fueled games from its marketplace.
Joining Fight for the Future in the initiative are NFT gaming infrastructure platform Enjin and the Blockchain Game Alliance (BGA), as well as 26 blockchain game studios. The BGA itself represents dozens of members, including major game publisher Ubisoft, Ethereum layer-2 scaling solution Polygon, The Sandbox publisher Animoca Brands, and Atari.
"Valve, web3 games are a fast-moving and exciting category of games that have a place within the Steam ecosystem," the letter reads. "Please consider changing your stance on this issue and permit tokens and, more broadly, the use of blockchain tech on the Steam platform. Don't ban blockchain-based games on Steam."
The co-signers hope to "at minimum, start a conversation between blockchain game developers and Valve," Fight for the Future's Joe Thornton told Decrypt. The larger goal, as the open letter states, is to convince Steam to reverse its ban on games that use blockchain technologies.
Steam instituted its ban earlier this month, updating its developer terms to state that creators "shouldn't publish" games or applications that are "built on blockchain technology that issue or allow exchange of cryptocurrencies or NFTs."
The developers of Age of Rust, an upcoming blockchain-based adventure game, broke the news on October 14, tweeting that it could no longer publish on Steam due to its updated regulations. Valve has yet to explain the decision, and representatives did not respond to Decrypt's request for comment.
An NFT acts like a receipt for a provably scarce item, and while digital artwork and video files have been popular NFT collectibles, a growing share of the market is focused on interactive video game items.
Ethereum-based monster-battling game Axie Infinity is now the largest NFT project of any kind, with more than $2.6 billion worth of trading volume per CryptoSlam. It's the biggest fish in the crypto gaming scene at the moment, but there are many more on the horizon—including the aforementioned metaverse game The Sandbox, as well as Solana-based Star Atlas and others.
Games based around NFT assets allow users ownership of digital items—such as characters, weapons, land plots, and more—which can potentially be monetized, or could appreciate in value over time. Such assets can potentially be used within multiple games as the metaverse develops across shared online spaces. NFTs can be a potential boon for game developers, too, as Lightspeed VC Amy Wu told Decrypt in September.
Soon after Steam banned NFT and crypto experiences from its platform, the Epic Games Store—a rising rival and home of Epic's popular Fortnite—opened its arms to such games. Epic Games CEO and co-founder Tim Sweeney tweeted, "Though Epic's not using crypto in our games, we welcome innovation in the areas of technology and finance."
Thornton believes that Valve is trying to protect its publishing model, in which in-game items—sold in Valve's own games like Counter-Strike: Global Offensive and Team Fortress 2—are not truly owned by users and can't be taken outside of the closed Steam ecosystem. He called Valve a "gatekeeper" that is standing in the way of an evolving market.
"This is another case of a gatekeeper wanting to retain their ability to extract value out of every single transaction on their platform," he told Decrypt. "NFTs empower users and creators primarily, and present a challenge to gatekeepers. There, of course, can be some agreement made between Valve and blockchain game creators, but in this circumstance, the creators fundamentally have an upper hand—and I don't think Valve is comfortable with that."
As significant as Steam's place in the market is, Axie Infinity has already proven that a NFT-driven game can launch outside of Steam and generate billions of dollars in activity. Thornton suggests that players will be able to find NFT-centric games on permissionless platforms even if Steam holds its stance—and Valve won't get a cut of that action.
"Players will congregate where the best experiences and gameplay exist," he said. "Valve is the one missing out by removing this type of content from their platform, not the other way around."
[ad_2]

Source link